Recent Posts
1
« Last post by Ken312 on Today at 08:58:42 AM »
Welcome po.
2
« Last post by Ken312 on Today at 08:57:41 AM »
Thanks for sharing this tip, maganda nga aralin etong stock market calculator.
3
Finally nareach din ang 8000 hahaha.
4
« Last post by Ken312 on Today at 08:53:27 AM »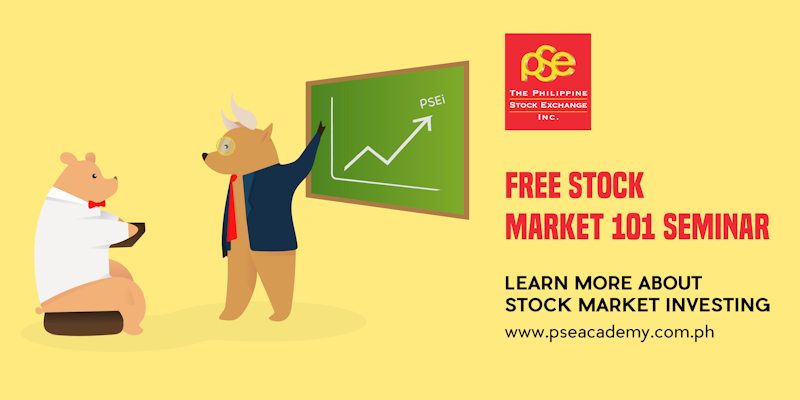 DESCRIPTION
The Philippine Stock Exchange, Inc. (PSE) offers FREE Stock Market 101 seminar every Tuesday, 10:00-12:00NN at the PSE Tektite Office in Ortigas, Pasig City.
The free seminar will cover topics such as basic stock market concepts, exchange-traded funds, stock market quotations, trading cycle, and investment procedures.
DATE AND TIME
Tue, September 19, 2017
10:00 AM – 12:00 PM Philippine Standard Time Philippines Time
Add to Calendar
LOCATION
4/F PSE Training Room
Tektite Building, PSE Centre
Exchange Road, Ortigas Center
Pasig City, Metro Manila 1605
View Map
FRIENDS WHO ARE GOING
5
malapit na naman ang pasukan... magkano na tuition fee ng mga bata?

May copy ako nung tuition fee from top schools. private message nyo nalang ako ... gumagawa kasi ako ng excel sheet.
6
« Last post by MotherTouch on August 23, 2017, 09:06:04 PM »
dba parang mahirap mag home business na ganyan lagi kang online tapos parang marami kang kinukulit ... parang walang pinag kaiba sa telecommuting yan diba?

Yun nga medyo mahirap nga eto siguro.
7
« Last post by GreenMoney on August 23, 2017, 09:04:53 PM »
Bakit kaya madami pa ding ayaw sa networking business?

Tingin ko dahil marami ng nagexpect na kikita sila pero wala rin pala.
8
« Last post by PinoyLife on August 23, 2017, 09:03:05 PM »
buhay pa ba eto? parang ang tagal na neto.

9
Paano ba magbenta ng produkto sa internet? may nabebenta akong produkto kaya lang medyo kokonti palang customers isa pa mahal din products ko. papanu ba ito imarket sa internet with small budget?

Any idea?

Through online ka iadvertise mo sya doon.
10
Ask ko lang po sana, Magkano ba magpagawa ng website? Balak ko kasi mag expand sa business ko online.

Can anyone recommend na magaling? it's a business website sana na may e-cart

Pa post nalang kung magkano rate nyo dito. salamat

alam ko around 20,000-50,000 depende sa laki ng scope.
Posting Disclaimer: Any individual may post a message in this forum and may do so anonymously. Therefore, the sole author is exclusively and entirely responsible for all opinions in that message. They do not represent the official opinions of PesoRepublic , its administrators or moderators or the PesoRepublic Management. PesoRepublic is merely acting as an impartial conduit for constitutionally protected free speech and is not responsible and will not be held liable for the content of such messages.